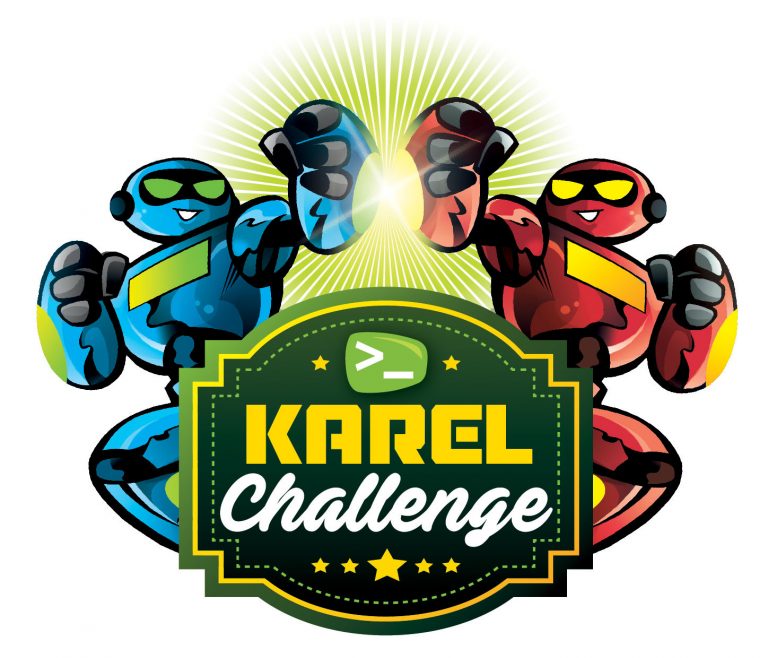 The fourth edition of the Karel Challenge, the annual programming competition organized by Codelearn, is already here! This year the situation experienced due to COVID19 forces us to stay at home, which means Karel Challenge will be held online! Do you want to take part of this coding competition?
The Karel Challenge is a game / e-sport that tests participants' speed, strategy and correctness when programming. Its main goal is to spread the importance of programming and computational thinking among children and young people and to do so in a fun and exciting way. Regarding Codelearn students, only those who have finished Chapter 2 of Karel's adventure can participate, but you can also sign up for the competition although you are not a student of our programming extracurricular activity – just keep in mind that you need some coding skills.
Participants will have to control a virtual robot – called Karel – in different scenarios where they will have to overcome obstacles and grab objects, completing the mission and reaching the exit before the rivals. Each game will have a specific start time and players must be prepared within the game at the set time, which can be consulted on the platform using a calendar. When the time comes and the game is activated, codes can be sent. Remember: speed and strategy are key to winning!
Those born from 2009 onwards will compete in the Karel Challenge Junior and those born up to 2008 (included) will participate in the Senior category (there is no age limit!). Obviously, there will be prizes in both categories!
PRIZES
For participating in the semifinals: 1.500 points
For reaching the final: 5.000 points
For each victory during the final: 3.000 points
Senior Winner: Trophy + Oculus Quest + 40.000 points
2n, 3r i 4t Senior: 30.000 points
Junior Winner: Trophy + Nintendo Switch Lite + 15.000 points
2nd, 3rd and 4th Junior: 10.000 points
Also, there will be global prizes at the Points Store which only Karel Challenge's finalists will be able to buy!
CALENDAR
Until May 14: classification games.
Saturday, May 16: each centre will celebrate its semifinal. Only those participants who have won at least one game can participate.
Saturday, May 30: Senior and Junior Big Finals.
INSCRIPTIONS
For Codelearn students: you can enroll on the platform, "Games and Activities", if you have finished Karel's Chapter 2.
For the General Public: you can make our registration through this link.
Good luck!
Sponsors and contributors: